Mild Steel Esab Welding Rods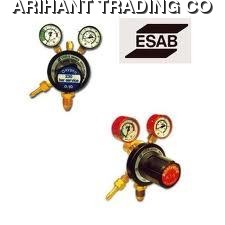 Mild Steel Esab Welding Rods
Price And Quantity
Product Specifications
Product Description
Mild Steel Esab Welding Rods
Salient Features
First time in India a Regulator suitable for 230 Bar Inlet pressure.
Rugged.
Longer Life
Much Bigger plenum chamber ensures.
Outlet pressure stability.
Steady flow of gases.
Five retardant valve material
Stainless Steel Diaphragms in 1st Stage
Neoprene in 2nd stage
Withstand shock of full cylinder pressure.
Gives flexibility and better pressure regulation.
ESAB now introduces a line of new generation Multi-stage gas regulators. The "Durga Series". The first and only regulator in India made for 230 bar service, with Stainless Steel Diaphragm.
The Durga Series feature - packed gas regulators are made with the future in mind.
Stainless Steel Diaphragm on the 1st Stage absorbs the shock of full cylinder pressure. Bigger Plenum chamber ensures greater safety. Large gauge with easy - to - read dials. An ergonomically designed knob that's easy to operate and impossible to replace with an unsuitable type.